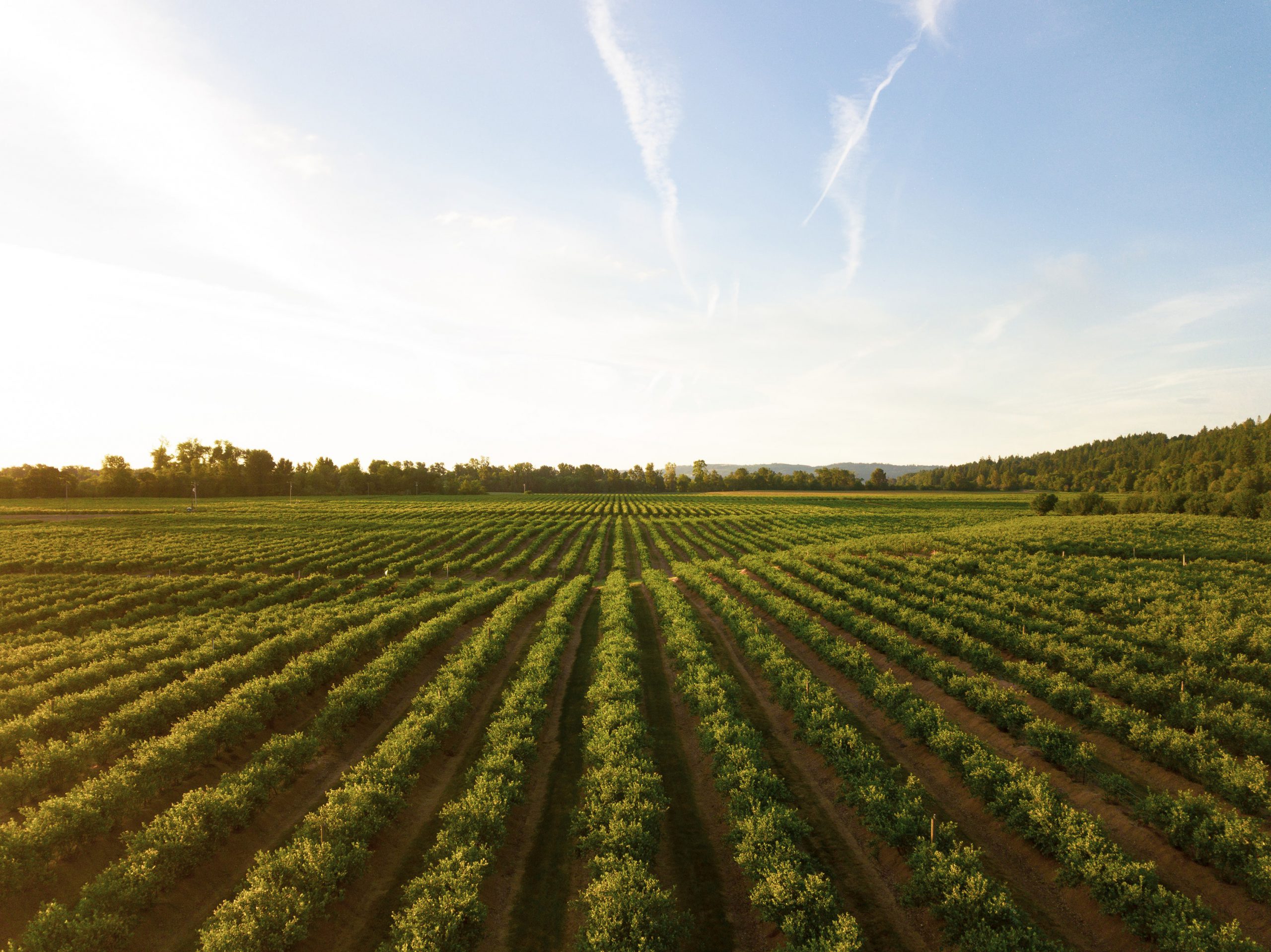 To Share and Preserve the History of Steiger Tractor
To make their farming operation more productive, Maurice and Douglass Steiger, along with their father, John, built their first Steiger tractor in a barn converted to a shop during the winter of 1957-58. Little did they know then that their tractor would draw so much attention and interest, that it would impact the agriculture industry, and that the Steiger name would be recognized as a world leader in the high-powered, large, four-wheel-drive-tractor market.
The Steiger Heritage Club has been formed to honor Steiger tractor history – from those early and humble days in the 1950s to today's huge, powerful, four-wheel-drive articulated Case IH "Steiger" model tractors.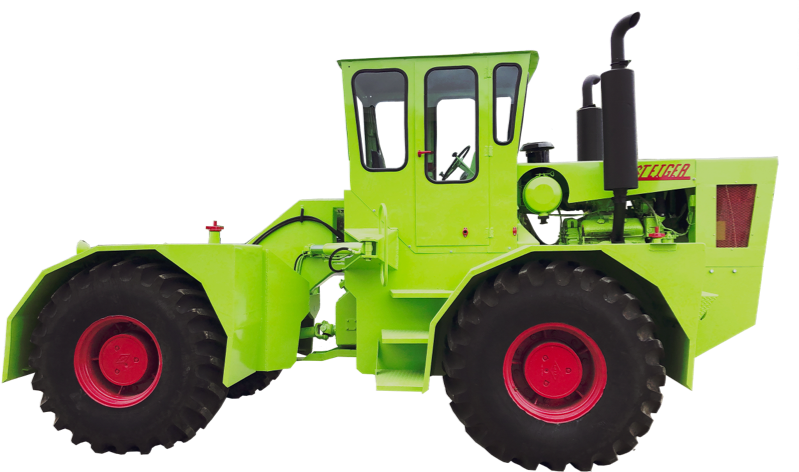 About
About the Steiger Heritage Club
The Steiger tractor has often been credited with changing the course of farming. The Steiger Heritage Club was formed for the education, information sharing, and enjoyment of Steiger Tractor owners, employees (past and present), and interested Steiger enthusiasts and friends. The Steiger Heritage Club is a 501(c)(3) non-profit organization incorporated in the State of Minnesota.
BECOME A MEMBER
You can be a member of the Steiger Heritage Club simply by signing up. There is no membership fee. We do have expenses, however, and will rely on free-will donations and support from members and Company/Farm sponsors.
The Green Steiger Tractor Story
Same Great Book.
Two Cover Options.
Which will you choose?
The Fargo Series cover or Barn Built Series cover?
Starting at the very beginning and looking at the Steiger family from the early days through to building
their first 4WD articulated tractor during the winter of 1957/58, learn more about the family's important
role as innovators and pioneers of the 4WD tractor industry. Softbound. 206-pages. A 3-Point Ink, LLC
book.
About the author: Peter D. Simpson has become a leading authority on the history of four-wheel-drive tractors. Since 1999, he has produced three volumes of 'Ultimate Tractor Power', an A-Z series of the big 4WDs around the world. Peter has also produced 10 DVDs on 4WD articulated tractors from around the world.
A portion of the proceeds from the sale of the book will be donated to the Steiger Heritage Club.
Use the button below to order your book.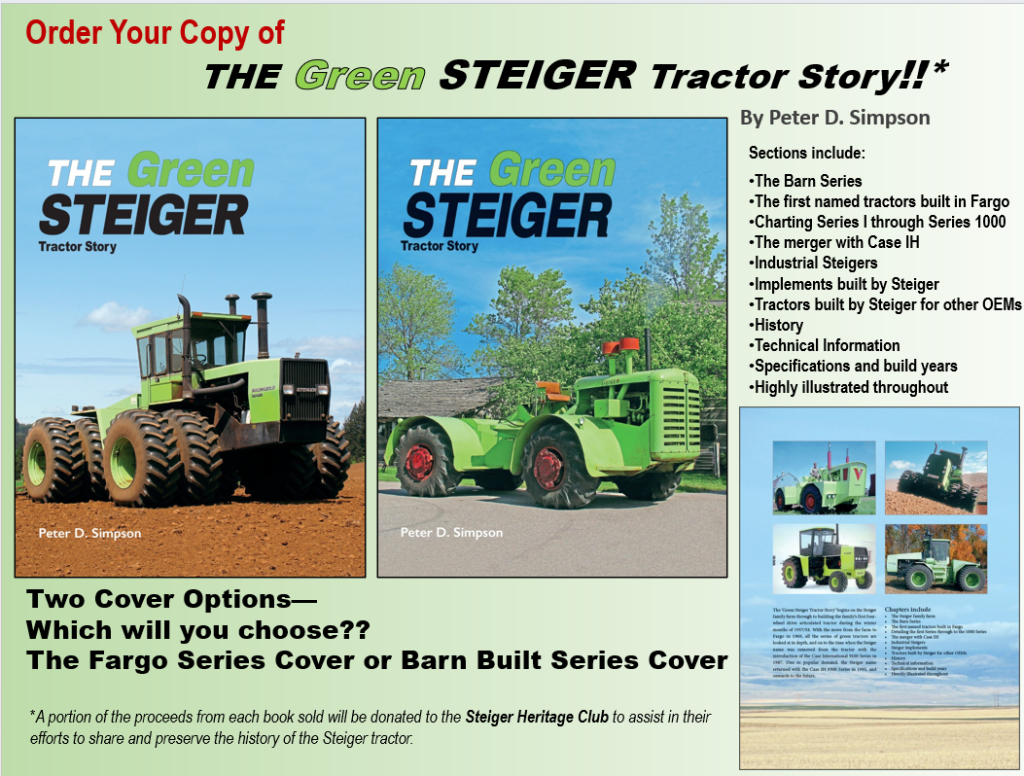 Get Your 2024 Steiger Heritage Club Calendars!
We are excited to announce that the Steiger Heritage Club will be producing a full-color 2024 Calendar featuring only Steiger Tractors—both green and red and both old and new! We are still collecting and selecting photos to include in our calendar. If you have good quality, high resolution photos, and you think they should be in the Steiger Heritage Club calendar, please submit them as soon as possible through this page: Share your photo. Even if we don't use them in the calendar, we may include them on our website Gallery or in a Newsletter. Please order by October 1, 2023.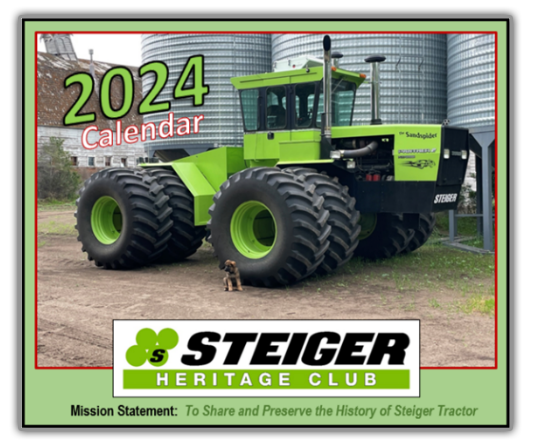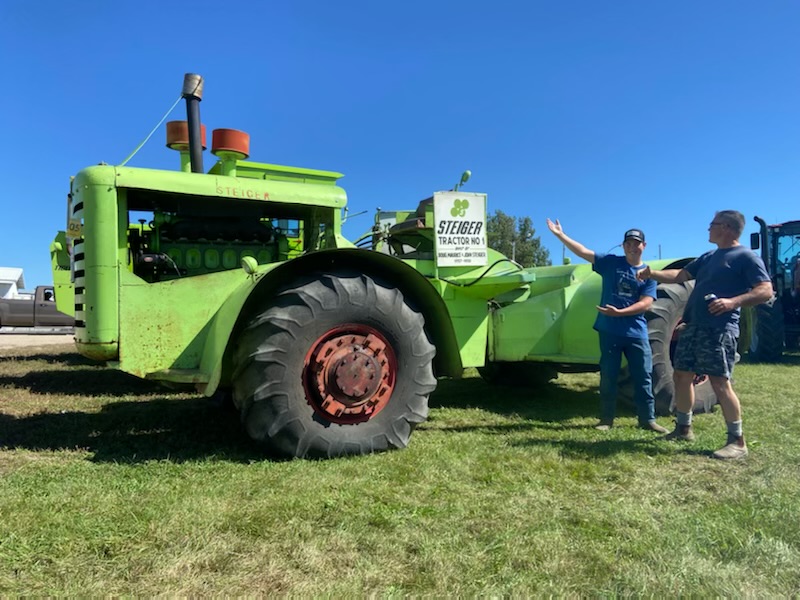 Our Stories
Stories from Steiger Tractor Enthusiasts
Read stories submitted by Steiger Tractor enthusiasts and friends, employees, tractor owners, and Steiger-related businesses.
News
Steiger in the News
HERITAGE IRON MAGAZINE, November/December 2022, Issue 084, pp.36-37

HERITAGE IRON MAGAZINE, September/October 2022, Issue 083, pp.36-38

HERITAGE IRON MAGAZINE, Jan/Feb 2018, Issue 55, pp.36-41