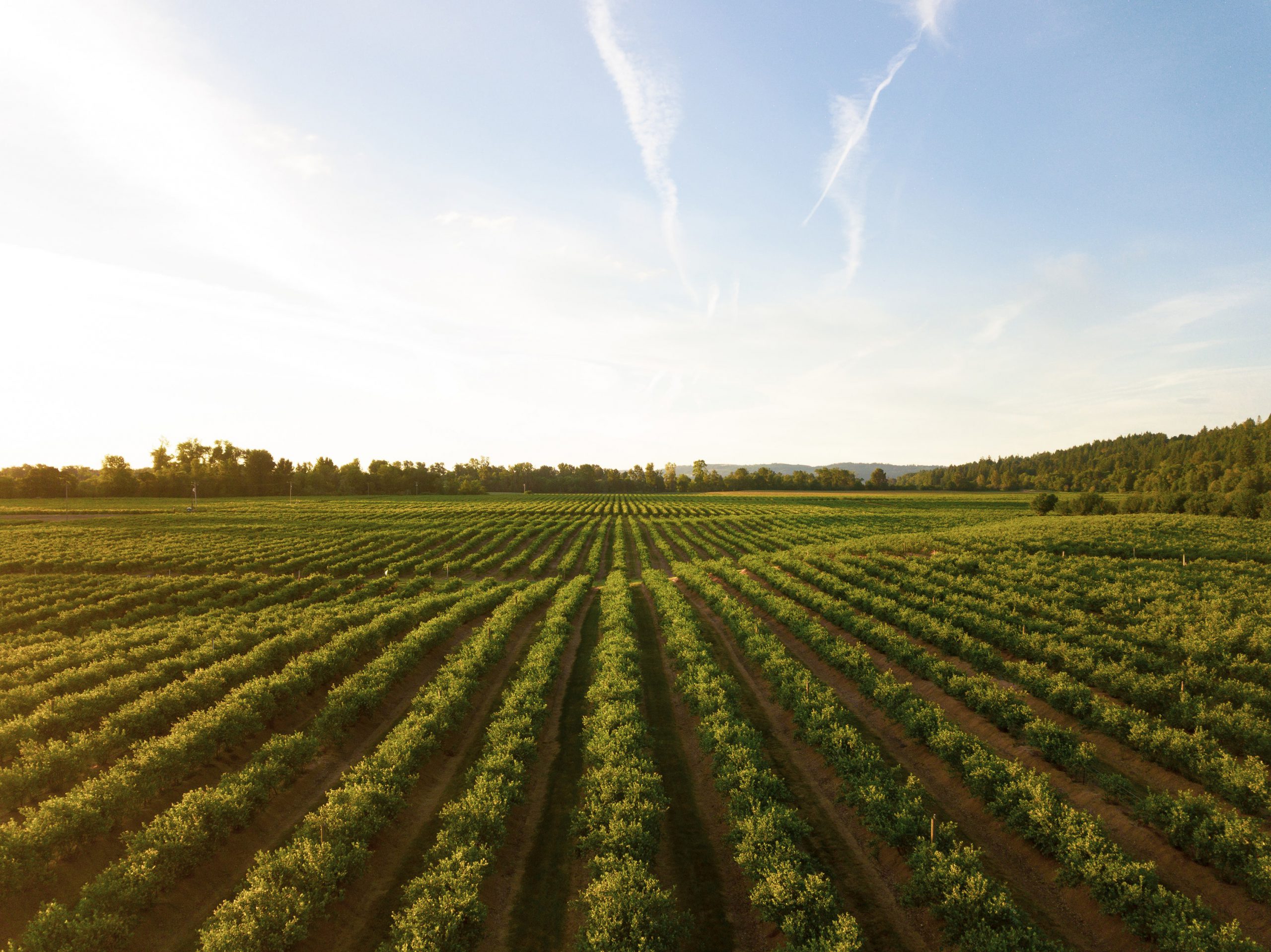 In Memoriam
Remembering Those Who Built Steiger Tractor
Many individuals have contributed to the development, growth, and evolution of the Steiger tractor, and we honor and thank all who were part of Steiger tractor history and success. While we may not be able to acknowledge everyone here, we will try to recognize as many as we can. With this new website, we begin by remembering those presented below. We will be adding memorials for other key individuals as we continue to expand the Steiger Heritage Club website, and, as part of doing so, we will appreciate if you, our Steiger Heritage Club members, will contact us to share memorial information for individuals you believe should be commemorated on our website.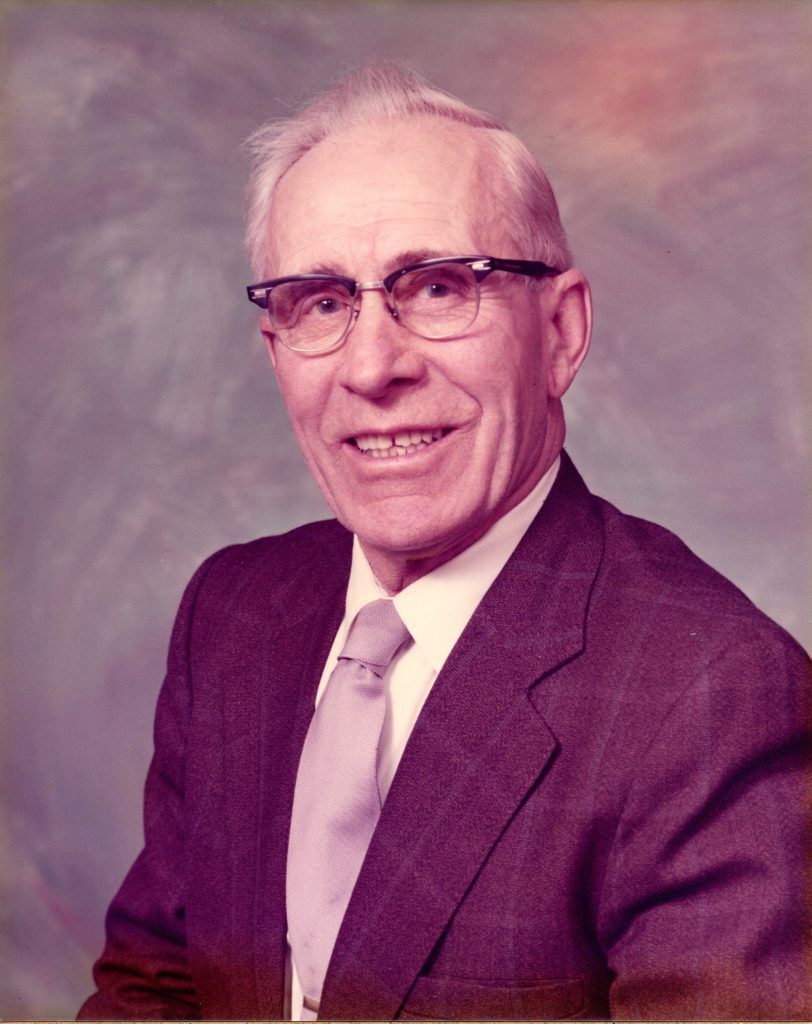 John Steiger
July 30, 1895 – October 5, 1976 (81 years)
Can you imagine the magnitude of the changes John Steiger experienced over his lifetime – from operating a small farm using horse-drawn equipment to farming over 5,000 acres using an innovative and large 4WD tractor carrying his name? John Steiger was the patriarch of the Steiger family that, over the winter of 1957-58, built a large, high-powered tractor to help make their farming operation more productive. That tractor, now known as "Steiger #1" and sometimes as "Barney," started the Steiger legacy.
John was a man of deep faith in God and a devoted family man. He was raised in Cavalier, ND. As a young man, he moved and homesteaded in Montana, hoping to start a new farm. The Montana farm was not to be. After extreme droughts for two years, the Montana farm never came to fruition, and John eventually returned to Cavalier, ND. His future was sealed when he met Ella Brandt, the county court reporter. Ella and John married in 1922. Ella had grown up on her parents' heavily forested farm west of St. Hilaire, MN, in Black River Township. Ella's parents persuaded John and Ella to take over the Brandt farm. John and Ella decided to expand the farm, and this required clearing many acres of wooded land. John not only cleared his land, but he also seeded, harvested, and plowed the fields operating only horse-drawn equipment. John always looked for ways to make his farming more productive; his first tractor was a Rumely, and he later acquired a more "modern" Twin City-brand tractor. John and Ella built a new home on the farmstead in 1928. With its four bedrooms, one bath, "formal" dining room, running water, and electricity, the house was considered large and modern at the time.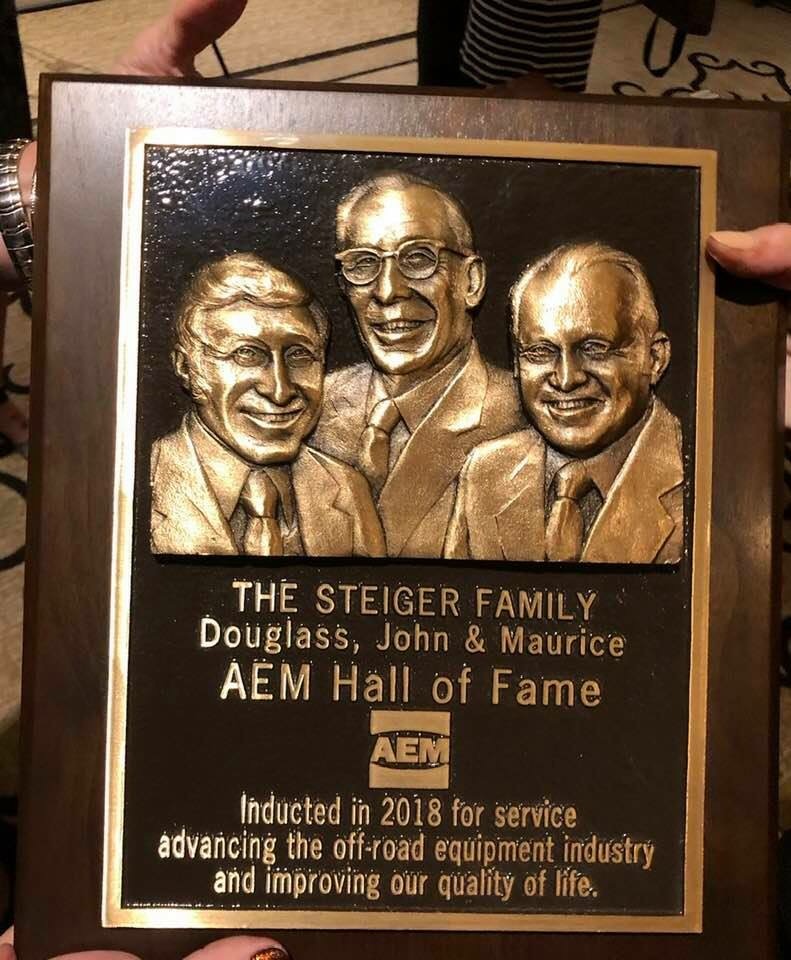 John and Ella raised three children in that house: Maurice, born in 1928, Douglass, born in 1933, and Geraldine, born in 1935.
John continued to look for the "best next innovation" throughout his farming career. The Steiger farm was growing in the 1950s. In 1957, when his sons came up with the idea to build a large tractor that would give John the capacity to do all the tillage work and would also free up Douglass and Maurice to make extra money doing custom work for others, John supported the idea. Together, over the winter of 1957-58, the three Steiger men built the first Steiger tractor. In 1960, they built a second, smaller tractor for themselves and called it the Model 105. They built two or three more Model 105 tractors for neighbors. In 1963, they officially made a business of manufacturing Steiger tractors, which were often referred to as the "Cadillac of tractors." But the tractor business remained just part of their enterprise. By the 1970s, John, Maurice, and Douglass were also farming more than 5,000 acres.
John was active in his church, where he served as the church chairman and as a deacon and also taught adult Sunday School. He held offices in Black River township and was the treasurer of Bray Mutual Insurance. John never really retired. He continued farming – driving those big green tractors with the Steiger name on them – until he passed away at the age of 81.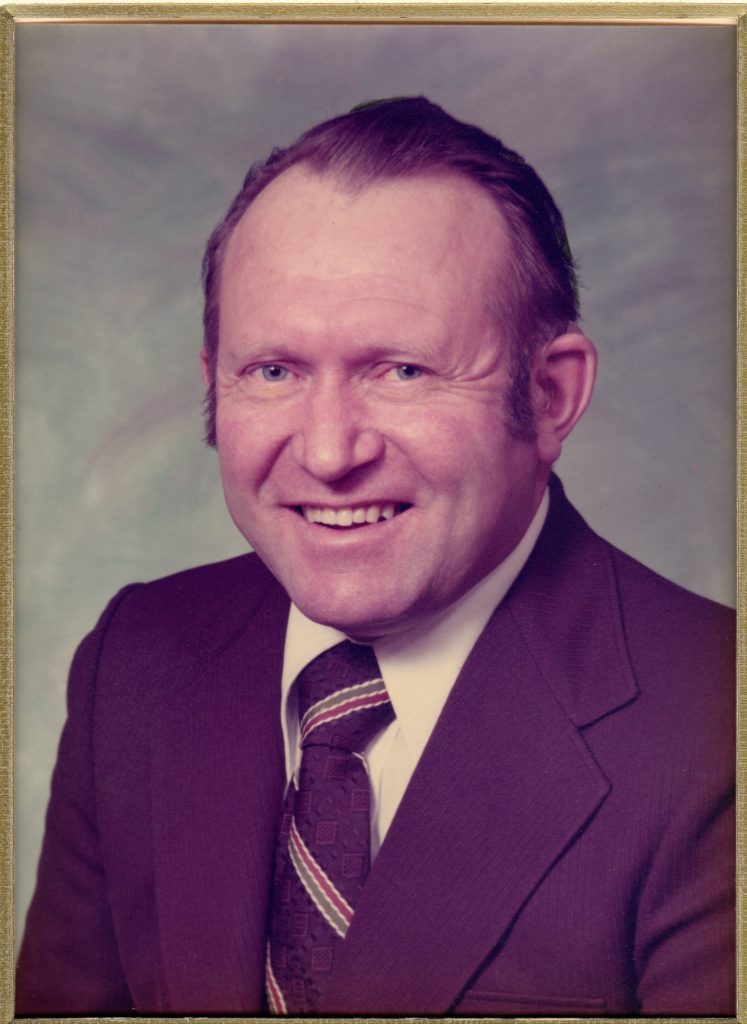 Maurice Steiger
April 3, 1928 – March 17, 1991 (62 years)
Maurice Steiger was the oldest child in John and Ella Steiger's family. Maurice farmed with his father and his brother, Douglass. By the 1950s, the Steigers' farming operation was growing, and they needed to find ways to increase productivity. In 1957, Maurice and Doug came up with the idea to build a large, four-wheel-drive tractor that would give John the capacity to do all the tillage work and would also free up the two of them to make extra money doing custom work for others. Over the winter of 1957-58, and using almost all used parts, the three Steiger men built the first Steiger tractor (known as "Steiger #1" and sometimes as "Barney"). Realizing Steiger #1 was too large for some of their farming applications, they decided they needed a second, but smaller, four-wheel-drive tractor. In 1960-61, they built that second tractor and called it the Model 105; this tractor was also constructed out of used parts. They built two or three more Model 105 tractors for neighbors. In 1963, the Steigers were persuaded by Elbow Lake, MN, implement dealer, Earl Christianson, to start a tractor business – but they would have to build tractors using new parts. By spring of 1984, they had built their first two "production" tractors: the 2200 and the 1700.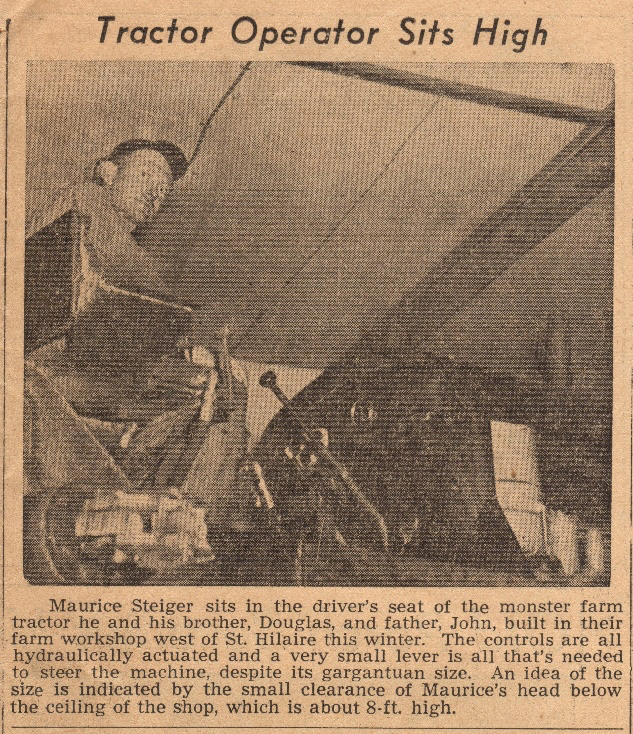 In addition to farming, the Steigers were innovators and entrepreneurs. In addition to founding Steiger Tractor, they developed several other agriculture-related businesses. Maurice served as a board member and corporate secretary-treasurer for these Steiger-owned businesses, which included Steiger Farms, Steiger Manufacturing, Hydra-Mac, Inc., and D&E Machining. After the Steigers sold 52% of their tractor business to a group of investors in 1969, and the tractor business had moved to Fargo, Maurice served on the Steiger Tractor Board from 1970-71. Maurice and his sons purchased and assumed operations of Steiger Farms, Steiger Manufacturing, and Toreq, Inc., in 1983.
In 1966, Maurice and Douglass, along with Earl Christianson, received a patent for an articulated vehicle. Also in 1966, Maurice was named King Agassiz at the Red River Winter Shows in Crookston, MN. Concordia College of Moorhead, MN, recognized Maurice as a leader in American agriculture for the part the Steiger story played in Dr. Hiram Drache's books "Beyond the Furrow" and "Tomorrow's Harvest." In 2015, the Steiger family was inducted into the Northwest Minnesota Foundation's IDEA Hall of Fame, which recognizes the region's legacy innovators—those who have inspired others with their entrepreneurial vision, leadership, and achievement. In 2018, Case IH nominated, and the Association of Equipment Manufacturers (AEM) inducted, John, Maurice, and Douglass into AEM's prestigious Hall of Fame.
Maurice grew up and attended school in Black River Township, Pennington County, Minnesota. He attended Hanson Trade School in Fargo, where he focused on diesel engines and machining. He married Lorraine Horter on March 7, 1948. They raised five children: Bruce, Brenda, Bryan, Bradley, and Bridget. In 1973, he married June Peterson Wetch. Tragically, Maurice and two of his sons, Bruce and Brad, were killed in a small-plane crash in 1991.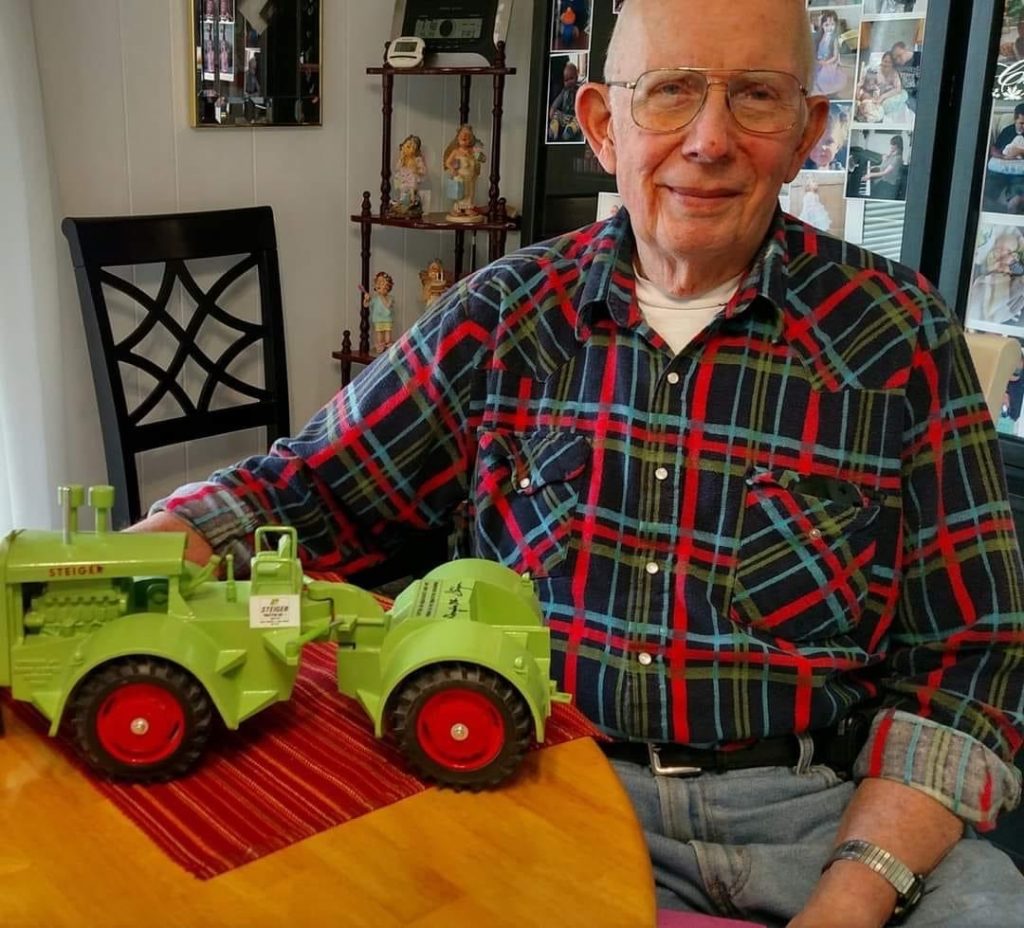 Clifton Johnson
July 1, 1935 – August 21, 2021 (86 years old)
Steiger Tractor's history would not be complete without remembering Clifton Johnson. A friend and neighbor, Clifton grew up in Pennington County about three miles from the Steiger farm. Clifton was two years younger than Douglass Steiger; he and Doug attended a one-room country school in Minnesota School District 94. He began working with Douglass and Maurice in about 1960 and engaged in several Steiger businesses until 1983. He held various roles in those businesses – from shop supervisor to engineer to Vice President. During the Steiger Manufacturing years, he managed the factory operation in what has come to be known as the "Barn" and assisted in tractor and equipment design. Clifton worked at other Steiger businesses—these located in Thief River Falls, MN. He led the Engineering Department for several years at Hydra-Mac, Inc., a manufacturer of skid steer loaders. In 1974, Doug and Clifton co-founded Toreq, Inc., a manufacturer of scrapers and other equipment; Clifton served as vice president of the company. As an entrepreneur, Clifton owned both the Mobil gas station and Johnson Hardware in Thief River Falls, MN.
Clifton married Patsy Delude in 1954. They had six children: Ramona, Edie, Dallas, Roseann, Joel, and Lester. Patsy passed away in 2009. In 2014, he married Phyllis Clayton.
Clifton had many interests; he was a sportsman and community minded. He competed in various rifle shooting sports and was an amateur ham radio operator. He served as a church council member and in the Civil Air Patrol.
Earl Christianson
October 2, 1929 – August 8, 2017 (87 Years)
There would not have been a Steiger Tractor company had it not been for Earl Christianson, an implement dealer from Elbow Lake, MN. By 1963, the Steigers had built two tractors (Steiger #1 and a Model 105s) to use in their farming operation and two or three others to sell to neighbors who had asked them to build Model 105s. These first tractors, made from used parts, were somewhat crude. In 1963, Earl attended the Red River Valley Winter Shows in Crookston, MN. Earl had heard about the tractors the Steigers were building. Crookston is about 25 miles west of the Steiger farm, so while in the area, he decided to pay Doug and Maurice a visit and check out their tractors. Earl was impressed. He told the Steiger brothers, "If you build tractors out of new parts, I will sell them." He convinced Doug and Maurice to go into the tractor manufacturing business, and the first two "production" tractors were built by the spring of 1964. Earl became Steiger Manufacturing's first Sales Manager.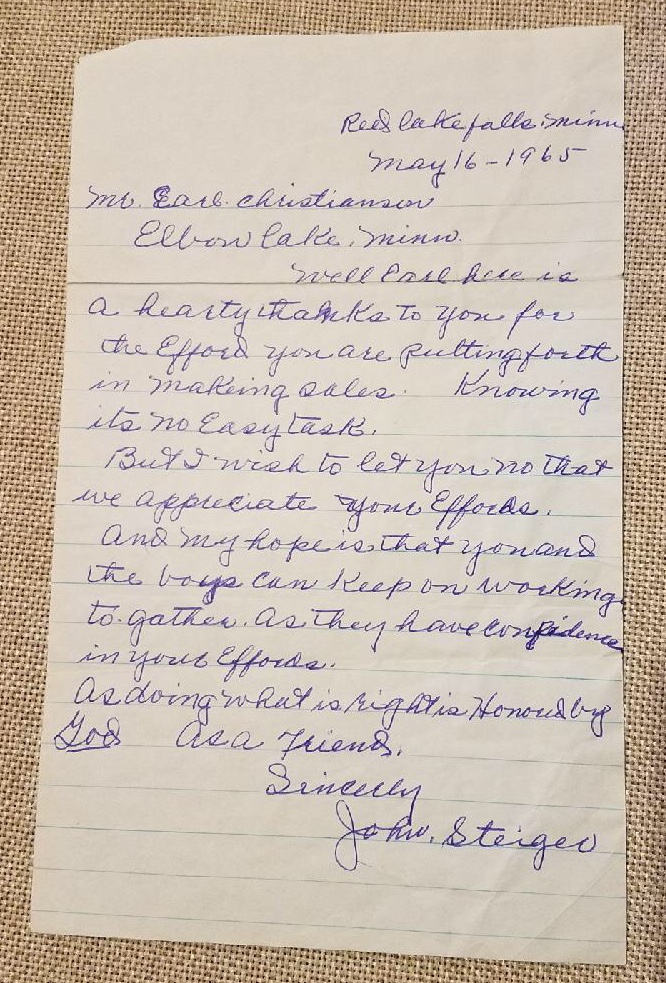 Earl was a pioneer in introducing the 4WD tractor to agriculture. He worked closely with Doug and Maurice to develop and market the Steiger tractor, and together, they received a patent for an articulated vehicle. Earl's son, Peter, recalls watching his father draw the angular fenders that would become one of the Steiger tractor's distinctive features along with the lime-green color. Earl promoted and sold the first of them in the early sixties. Doug Steiger said of Earl, "In my many years of business, I have never seen anyone who was able to sell a new concept and unknown brand like Earl was able to do." As the original Steiger dealership, Christianson's Inc. went on to sell and service 4WDs in the southern Red River Valley area. Earl remained excited about new concepts in agricultural equipment, be it sprayers, tillage, tracks, or other innovations. He retired in 1991.
Earl was a man of the highest integrity and instilled a deep sense of honesty, loyalty, perseverance, and humility in his children. He had an enduring sense of curiosity and was constantly looking to the future, be it the advent of 4WD tractors or the consolidation of rural school districts. Earl was highly active in the community serving on the bank board, school board, and other local volunteer organizations. He was an enthusiastic source of encouragement and inspiration for young and old alike.
Earl grew up in Wendell, MN. He graduated from Elbow Lake High School and the Minnesota School of Business. Earl started his career in his father's farm equipment business. He married Jeanne Jaunty and together, they raised ten children in Elbow Lake, MN.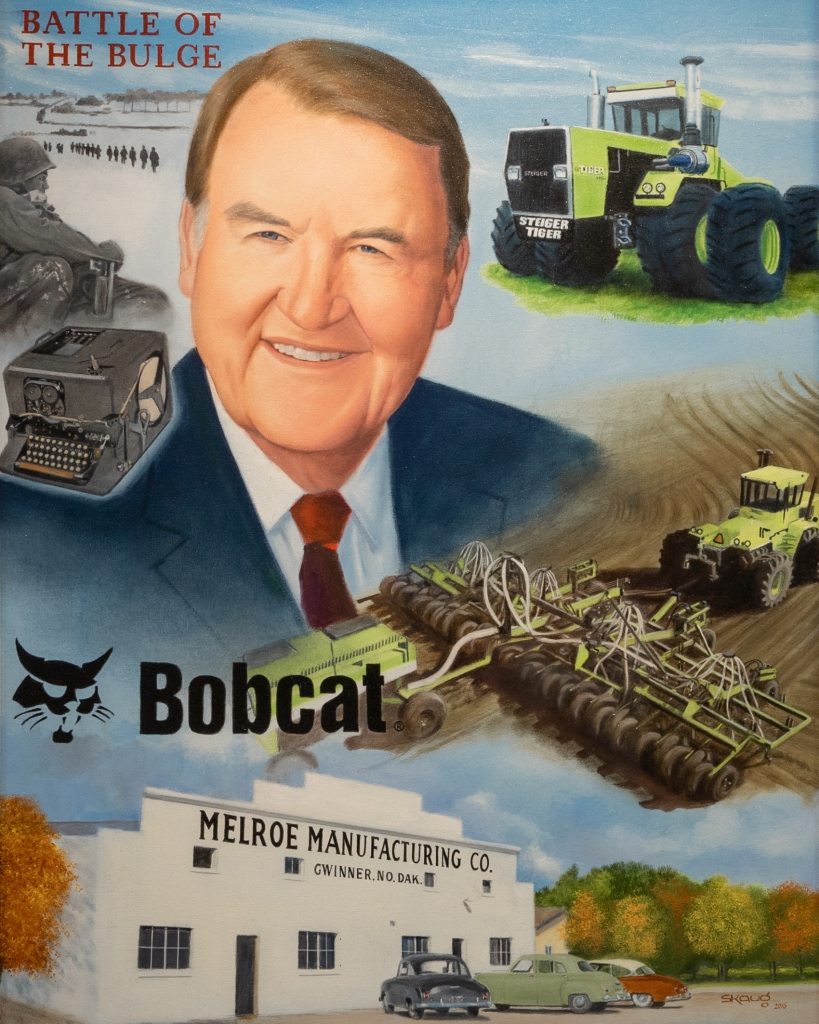 Eugene (Gene) Dahl
August 3, 1924 – July 23, 2008 (83 years)
Eugene Dahl became the CEO of then Fargo-based Steiger Tractor in 1971. During his first six years, Steiger Tractor sales increased from $2 million per year to more than $105 million per year, making Steiger a world leader in the four-wheel drive tractor industry. By 1974, the company had grown so much a new 400,000-square-foot plant was constructed and opened in 1975.
In 2016, Eugene was posthumously awarded North Dakota's prestigious Theodore Roosevelt Rough Rider Award for his achievements as a business leader and entrepreneur. The following is North Dakota's tribute to Gene.
Eugene Dahl was a leader, entrepreneur, and philanthropist whose name is synonymous with innovation in manufacturing and agriculture not only in North Dakota but nationally and globally. He led the successful growth of several equipment manufacturing businesses in North Dakota, including Bobcat and Steiger. He was instrumental in bringing thousands of manufacturing jobs and economic opportunities to the state.
A native of Gwinner, ND, Eugene graduated from Gwinner High School and attended North Dakota State University and Michigan State University before serving in World War II with the 75th Infantry at the Battle of the Bulge. He served as a cryptographer, working with new technology that was used to code and decode important and secure messages. After the war, he finished his education at the University of North Dakota with a degree in math and chemistry.
In 1947, he married Evelyn Melroe. They taught school for one year in Cavalier before returning to Gwinner where Eugene became a partner in the Melroe Company, founded by Evelyn's father, E. G. Melroe. Eugene and his four brothers-in-law built the Melroe Manufacturing Company, now known as Bobcat, before selling it in 1970 to Clark Equipment. Bobcat is North Dakota's largest manufacturer, producing skid steer loaders with global sales.
In 1971, Eugene assumed the role of CEO of Steiger Tractor in Fargo. Under his leadership, the company became a world leader in manufacturing four-wheel drive tractors. While at Steiger, Eugene formed one of the first employee stock ownership plans in the nation. Steiger was sold to JI Case in 1986.
Throughout his career, Eugene mentored several employees and entrepreneurs. He helped his sons, Howard and Brian, establish Concord, Inc., which became the leading manufacturer of air seeders in the U.S. He served as board chairman from 1977 until the company's sale to Case Corporation in 1996. He was also pivotal in creating Amity Technology, the leading manufacturer of sugar beet harvesters and defoliators in North America and Russia.
Eugene co-founded First Dakota Capital, North Dakota's first venture capital firm, and served as the first chairman of the Center for Innovation at UND. He served on numerous boards and received many honors, including an honorary doctorate from UND, induction into the North Dakota Entrepreneurial Hall of Fame and the 2008 NDSU Harvest Bowl Agribusiness Award.