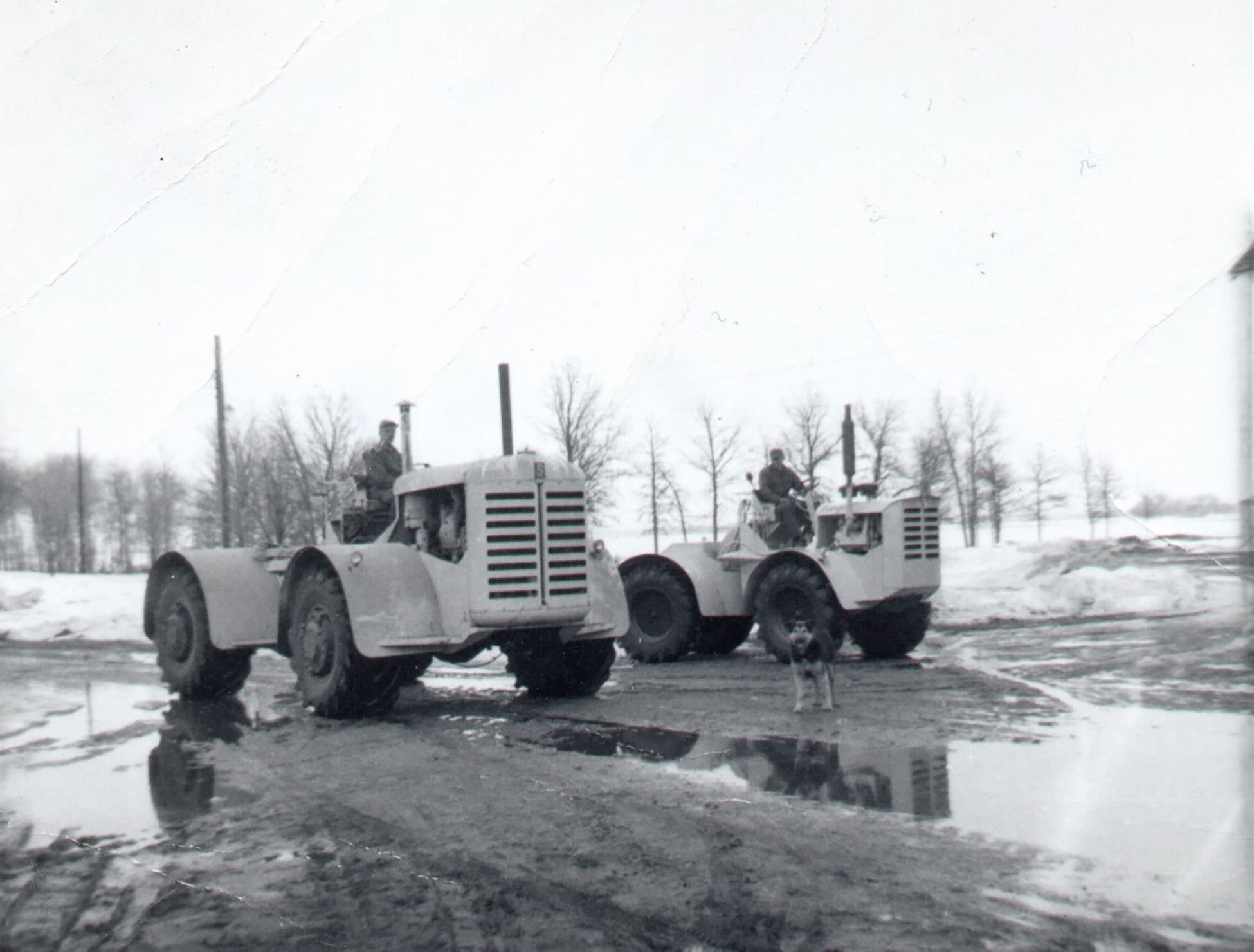 Steiger Tractor History
Many Contributed to the Development of Steiger Tractor
Steiger Tractor history is as deep and rich as the soil of the Red River Valley of North Dakota and Minnesota where the Steiger tractors are built. Many key men and women contributed to the development, evolution, and success of the Steiger and Case IH Steiger brand. We honor all of those who played a part in Steiger history and in no way mean to slight anyone who should be acknowledged here but is not. Please understand that: 1) this Steiger Heritage Club website is new and still under construction; we fully intend to enhance this history as we continue to research and develop the content; 2) while it would be ideal to have a thorough and detailed history, it is impossible to tell the entire story within a section of a website; and 3) while many of us who are putting together this version of Steiger history are close to that history, we have found that memories have faded and written documentation is often in conflict, so we cannot always guarantee the accuracy of the information presented.
We hope you enjoy the history we share with you here.
Milestones in Steiger and Case IH Steiger History
Steiger Model History: 1957-1989
Dreams—Early 1900s
The Enlarged Homestead Act of 19091 increased the amount of land available for homesteading claims from 160 to 320 acres. Massive advertising campaigns by the railroads lured young American and European farmers to Montana. The promise of 320 acres prompted 22-year-old John Steiger to follow his dream of building a farm of his own and move to Montana. Years of drought and failed crops made John unable to "prove up" his homestead. Discouraged but proud, he returned to his family home in Cavalier, ND. Upon his return to Cavalier, he met the love of his life, local court reporter Ella Brandt. John and Ella married in 1922 and moved to the Twin Cities for several years.
Ella's parents missed their youngest daughter and knew John still dreamed of owning his own farm. They encouraged John and Ella to return to Pennington County, Minnesota, and take over the Brandt farm located eight miles west of St. Hilaire. The Brandt farm encompassed about 140 acres of farmland and many more acres of forested land. By 1927, John and Ella began to expand the farm. John not only cleared the wooded land, but he also seeded, harvested, and plowed the fields operating only horse-drawn equipment. John always looked for ways to make his farming more productive; by the 1930s, he had purchased his first tractor, a Rumely; he later acquired a more "modern" Twin City-brand tractor.
John and Ella raised three children: Maurice, born in 1928; Douglass, born in 1933; and Geraldine, born in 1935. Ella became disabled by Parkinson's disease; John cared for her until the day he passed away.
From 1958 until 1976, John Steiger proudly drove huge, four-wheel-drive, lime-green tractors with the Steiger name displayed in bright red on them. Can you imagine how proud he would be to see that huge, four-wheel-drive tractors – though now red—still today carry his name?
An Expanding Farm and the Need for Innovation—1950s
As the Steiger farm grew, the family plan was for Maurice to be the farmer and for Doug to be a preacher or a doctor. At the age of 17, Doug had an opportunity to buy a quarter of land about a mile southeast of the main homestead. He borrowed money from his sister, Geraldine, farmed that quarter of land the following year, and paid Geraldine back in full. From this experience and achievement, the plans for Doug changed; he would be a farmer, too.
By the mid-1950s, John Steiger and his sons, Douglass and Maurice, were considered successful farmers – raising Wessex hogs and farming 2,000 acres west of St. Hilaire, Minnesota, between Thief River Falls and Red Lake Falls. At that time, each of the Steigers owned their own farmland, but they shared resources to help them all expand. During the mid-1950s, poor weather challenged their farming operation. Doug and Maurice, trying to find ways to bring in extra income, started to also do custom work for other farmers; doing so, however, caused a labor problem when it came to farming their own land. From this came the idea that if they had a bigger tractor, Doug and Maurice would have more time to do the custom work, and John could do all the tillage work on their farm.
A Larger Tractor and Building Steiger #1
Maurice and Doug were considering several tractor options. One of the options was a Wagner tractor – one of the largest at the time. The estimated cost to buy a new tractor large enough for their needs was $20,000. Thinking they could build one themselves – and confident the machine would be better than what they would be able to buy—they determined it would cost them about $10,000 to build their own. The Steigers talked about their two options with E.O. Peterson, president of Union State Bank of Thief River Falls. Peterson encouraged them to build the tractor, and his bank loaned them the money. Douglass remembers Peterson as a supporter and one of the first people outside of the family that helped the tractor to be built.
The three Steigers moved ahead with the plan to build their own tractor. They designed the tractor and, in November of 1957, began to build it. They combined their talents: Douglass's ability to draw plans for tractors; Maurice's diesel mechanics, welding, and steel fabricating talents; and John's blacksmithing skills.
Built in their shop (a converted dairy barn) on the Steiger farm during the winter of 1957-58, the first Steiger tractor weighed 24,000 pounds. The tractor was hand-built, mostly out of used parts they had salvaged from mining equipment from northeast Minnesota's Iron Range. With only a cutting torch, arc welder, small turning lathe, and the miscellaneous tools usually found around a farm shop, they constructed their tractor. Powered by a 6-71 Detroit diesel engine that developed 238 HP, it included the following equipment: 23.1 x 26 tires of equal size (largest ag tires available at the time), Fuller 10-speed transmission, Dart Ore Truck axles, and a transfer case that was designed and built by the Steigers.
Called a "center bend" tractor because it pivoted in the middle on a large cylinder to facilitate turning, the machine was 20 feet 3 inches long, 9 feet 10 inches wide, and 7 feet 10 inches high from the ground to the top of the hood. The Steigers later patented the swinging power splitter, which allowed the chassis to articulate and provide a much tighter turning radius.
It had eight forward speeds ranging from 1.81 to 17 miles per hour and two reverse speeds, a 120-gallon fuel tank carried above the rear wheels and behind the center pivot, and a 30-gallon cooling system. Equipped with hydraulically operated power brakes and steering, it was steered with a lever approximately 5/8 inch in diameter and a foot long—similar to what today we would call a "joystick." (Years later, the Steigers replaced the lever with a conventional steering wheel.)
The huge Steiger tractor was painted lime green because Douglass had seen Euclid construction equipment in that color, and he felt that bright color would make their tractor distinctive from other farm equipment. The tractor was completed by April 1958, and they began using it that spring.
Operated from 1958 until 1973, Steiger #1 was retired with approximately 10,000 hours. The tractor was refurbished in 1975 by Maurice Steiger and his son, Bryan. During this restoration, they replaced the steering wheel and re-installed the lever-steering feature used when the tractor was first built. Steiger #1 was sent to Bonanzaville, U.S.A. in West Fargo, ND, where it is presently on public display. It is transported to the Western Minnesota Stream Threshers Reunion in Rollag, MN, each Labor Day Weekend for display in the Mark Yaggie STEIGER HERITAGE HALL, where some almost 50,000 visitors can see it.
The Model 105 and the Formation of the Steiger Tractor Business
Two years later, the Steigers decided to build a second tractor, smaller than the first one, to be used for lighter-weight tillage such as harrowing and cultivating. They called this tractor the Model 105. Neighboring farmers were impressed with the Model 105; they asked the brothers to build them similar tractors. Between 1961 to 1963, two or three more Steiger Model 105s were built, again mostly out of used parts but using a conventional steering wheel. The 105, with an engine half as large as Steiger #1, was powered by a 118 hp 3-cylinder 2-cycle 3.71 Detroit Diesel engine. Equipment included a Spicer 5-speed transmission, 2-speed Steiger-designed transfer case, modified WC Allis Chalmers rear ends, and 18.4 x 26 tires.
Douglass and Maurice Steiger did not intend to develop a tractor-manufacturing business; it just evolved. In 1963, Elbow Lake, MN, implement dealer Earl Christianson attended the Red River Valley Winter Shows, an agricultural show in Crookston, Minnesota. He had heard about Steigers' barn-built tractors, so while in the area — Crookston is about 25 miles from the Steiger farm — he went out to visit Doug and Maurice and to check out the tractors. Impressed, he proposed to Doug and Maurice that if they built tractors out of new parts, he would sell them. Peter Christianson remembers his dad telling him that when he suggested building the tractors out of new parts, Doug asked, "What would we call them?" and Earl said, "Steigers!" At the time Doug and Maurice thought Earl was crazy, but a few months later Doug drove his motorcycle the 90 miles to Elbow Lake and asked Earl if he was serious. Because of Earl's influence, the Steiger Tractor business was formed. Earl became Steiger Manufacturing's first Sales Manager and was instrumental during the 1960s in promoting and selling Steiger tractors throughout the northern states, into Canada, and even in Europe. Mainly because of Earl's efforts, 126 Steiger tractors were built at the farm by 20 employees. Steiger tractors were sold directly from the factory to the purchaser until 1967. Doug Steiger said of Earl, "In my many years of business, I have never seen anyone who was able to sell a new concept and unknown brand like Earl was able to do."
Earl, Douglass, and Maurice conferred regarding the size and styling of the new Steiger tractors that would go to market. Earl's son, Peter, recalls watching his father draw the angular fenders that would become one of the Steiger tractor's distinctive features—along with the lime-green color. By early spring of 1964, the first 2200 and first 1700 had been produced. The first 2200 built was employed by the Steigers for their farming operation and was sold as a used tractor in 1966. The first 2200 sold new to a customer—and the second one built—was sold in June 1964; the first 1700 built was sold new in May 1964. From 1963-1968, Doug drew plans for four models, all of which would be built with new parts: 2200, 1700, 1250, and 3300. During this period, the "center-bend" was patented, and Doug, Maurice, and Earl were named as patent-holders. Cut into the front grill of three of the models were large Vs painted red to designate a V-type engine. An optional cab was available on these models.
Two models for the logging industry were also developed during this time – the 850 and 1250. Loggers featured a very short turning radius, instant forward and reverse motion, and maximum oscillation with two-speed, mechanically driven, hydraulically actuated winches.
Also produced during this period, 1968-69, was the Industrial 2200 dozer—a custom-designed and unusual tractor requested by Jack Munro, a dirt-moving contractor from Sheridan, Wyoming. Munro wanted it custom built to his own design and specifications; this included designing it so that the blade could be placed on the front or the back, and the controls pivoted around so you could run it in either direction. While Doug and Maurice Steiger and Clifton Johnson were wary of taking on this unique and challenging project, they felt additional pressure from two neighbors who were relatives of Munro, Herman Witt, who also happened to work the lathe at Steiger Manufacturing, and Charlie Vanderweg.
Doug, Maurice, and Clifton told Jack that his plan had design flaws and recommended several changes to improve operation. Jack would not accept the suggested design changes and demanded that it be built to his specifications. The Steiger Manufacturing crew eventually agreed to build it his way. When it was completed, Munro did not like it and, at first, refused to take delivery. During December/January 1968/69, northern Minnesota experienced one of its stormiest winters with six separate blizzards and total snowfalls ranging from 30 to 50 inches. (See Famous Winter Storms | Minnesota DNR (state.mn.us). The Steigers utilized and "tested" the Industrial 2200 that spring by moving huge amounts of heavy packed snow to make their farm, manufacturing business, and community navigable.
After quite some time, the Industrial 2200 had some features reworked. Originally painted "Steiger green," it was re-painted before it finally left the Barn, and Jack Munro eventually purchased the machine in late spring 1969. (We do not know this, but perhaps the relatives that persuaded the Steiger/Johnson men to build this machine also persuaded Munro to finally take it.)
In 1969, the Steigers designed two new tractors – the 2250 and the 1300. These two tractors were the first of the "Series I" tractors.  The V design on the front grille had been replaced with a mesh grille design, and the Detroit diesel engines were replaced by a Cummins engine for the 2250 and a Caterpillar engine for the 1300.
The "New" Steiger Tractor Company, Fargo, ND
The Steigers were at the forefront of a revolution in the tractor industry. Their company focused on providing tractors for producers farming large tracts of land. Major tractor manufacturers soon learned of the Steigers' ingenuity and followed their example. Eventually, all major tractor manufacturers had tractors similar to those that the Steigers created.
Steigers' tractor business continued to grow, in part, due to ease of maintenance. The Steigers used standard components in their tractors. Significant parts, such as engines, transmissions, and power trains, were outsourced from brand-name suppliers like Caterpillar, Cummins, Allison, Clark, Dana, and Spicer. Thus, replacement parts were readily available nationwide.
During the tractor-manufacturing 1960s, the Steigers continued to farm – growing it to 5,000 acres. The tractor business portion of their enterprises eventually grew to the point where the pressure of this demanding, expanding business was beginning to take its toll on the Steigers. In 1969, they decided to sell 52% of their interest in the tractor business to a group of investors. Those investors, Erling Falk, Bob Johnson, Bob Kelly, Ken McIntyre, and Bob Terry, moved the company to Fargo, N.D. and named the new business the Steiger Tractor Company. Bob Kelly became president and CEO at that time. They were to assist and further develop the Steiger tractor range.
The Steigers had designed the 2250 and 1300 at that point but had yet to build one. When the new, Fargo-based Steiger Tractor Company group took over, the 2250 was renamed the Tiger, and the 1300 was renamed the Wildcat. While the Fargo factory was getting set up and ready for production in 1969, it still needed the additional capacity of the Steigers' St. Hilaire manufacturing facility to supplement production and to meet tractor sales demand. The Steigers continued to manufacture tractors for the new, Fargo-based company through 1970 till early 1971. During that time, they built four more 2200s, two 1700s, the last four of seven total 3300s ever built, one 850 Logger, and at least ten 2250/Tigers–all of which were sold by the Fargo sales team. One, or maybe two, 1300 prototypes were built on the farm. In the spring of 1969, the Fargo group hired and paid NDSU freshman engineering student, Paul Nystuen, $2.25/hour to re-draw the plans for the 1300. The modified 1300, or the Wildcat, was the first model produced in Fargo. The Fargo plant also produced a few 1700s and 2200s.
Steiger Tractor Company: 1969-1986
Steiger Tractor Company initiated the use of "big cat" names for each model rather than continuing with series numbers. The first model built at the new plant, the Wildcat, featured a 175 PTO hp Caterpillar 3145 V8 engine. The tractors took on the cat names of Wildcat, Bearcat, Cougar, and Turbo Tiger, with each name denoting a horsepower class; cat names remained with the green Steigers tractors until the tractor color was changed to red by Case IH in 1989.
Douglass and Maurice Steiger remained active in the new Steiger Tractor Company, with Doug serving as Chairman of the Board the first year. With the longest tenure on the board of directors, Doug continued his service on the board until the company was sold to Tenneco, parent company of Case IH, in 1986. Maurice Steiger served on the board from 1969-1971.
The first year of the new Steiger Tractor Company was challenging and more capital was needed to grow. Enter Les Melroe of Melroe Bobcat skid steer loader renown. Les Melroe had recently sold the Bobcat business to Clark Equipment. By late 1970, Les became Steiger Tractor's principal investor and Chairman of the Board. The promotional activity of the five investors and the infusion of capital set the stage for greater expansion. The company again experienced financial difficulties about a year later. More investments came into the company. In 1971, Eugene (Gene) Dahl, Les's brother-in-law and a former officer at Melroe Manufacturing, was brought in as Steiger Tractor's new CEO and Chairman of the Board. Gene built a strong leadership team that included, among others, Jack Johnson as company president and Leonard Odde as head of marketing. The company saw its most significant gain under the leadership of this team. From 1971 to 1977, Steiger Tractor sales increased from $2 million per year to more than $104 million per year, making Steiger a world leader in the four-wheel drive tractor industry. By 1974, the company had grown so much, a larger factory was needed, and the company broke ground for a new 420,000-square-foot plant where manufacturing began in 1975. While at Steiger, Gene formed one of the first employee stock ownership plans in the nation. Following a poor farming and automotive economy, Steiger Tractor was sold to Tenneco, parent company of Case IH, in 1986.
Milestones in Steiger Tractor and Case IH Steiger History

1957-58: John, Maurice, and Douglass Steiger build the first Steiger tractor on their farm to make their farming operation more efficient.
1960-63: The Steigers build 3 or 4 more tractors, called the Model 105, about ½ the size of Steiger #1.
1963: Farm implement dealer, Earl Christianson, encouraged the Steigers to start a tractor business; he would becaome Steiger Manufacturing's first Sales Manager.
1966: Doug and Maurice Steiger and Earl Christianson receive a patent for an articulated vehicle.
1969: The Steigers sell 52% of the tractor business to five investors who rename the business the Steiger Tractor Company and move the business to Fargo, ND. The 2250/Tiger and 1300/Wildcat are designed, and prototypes produced.
1970: Les Melroe joins Steiger Tractor Company as the major investor and as Chairman of the Board. A Steiger 66-dealer nationwide network is established. Growth continues, and production is moved to a second plant in Fargo; that facility is still used today and currently houses the Case IH Engineering Test Center in Fargo. During this decade, Steiger began producing tractors for other companies, including Allis-Chalmers, Ford, CCIL's Canadian Co-op Implement Limited, and International Harvester.
1971: Eugene (Gene) Dahl joins Steiger Tractor Company. Due to the strength of his leadership team, the company grows from $2 million in sales to $104 million in sales in six years.
1973: The Hungarian firm, Raba, produces Raba-Steiger tractors based on Steiger Series II Wildcat.
1974: In May 1974, ground is broken for the current production facility. The new 420,000 sq. ft. manufacturing plant was finished in less than a year and could produce a new Steiger tractor every 18 minutes. During the 1970s, more than 1,100 people worked at the Steiger facility.
1975: Van De Velde company builds Vandel tractors based on the Steiger Series III Bearcat and Cougar tractors for distribution in Europe and North Africa.
1975: Steiger Tractor Inc. moves into its new 420,000 square-foot production facility. Considerable growth had come during the years of Chairman/CEO Gene Dahl, President Jack Johnson, and V,P, of Marketing, Len Odde. Case IH still uses the 420,000 square-foot plant as its manufacturing facility for its huge 4WD tractors and other large equipment.
1976: An Australian Steiger subsidiary with 50 selling dealers is established. The Series III tractors are introduced. During this timeframe, Steiger also produces more than 10,000 tractors for Allis-Chalmers, Ford, CCIL's Canadian CO-OP Implement Limited and International Harvester.
1977: Annual sales hit $104 million.
1979: The Steiger Tractor, Inc. plant turns out its 10,000th tractor.
1982: The Panther 1000 tractor is introduced. It is the first model to have 12-speed full power shift transmission, electronic controls, a comfortable deluxe cab and PFC hydraulics.
1983: The Tiger "KP" Series IV model is introduced with 525 horsepower and 6×4 Allison power-shift transmission.
1986: The revolutionary Puma 1000 model is introduced – the first Steiger tractor built with articulated steering and a front axle able to be steered. The steering innovations make possible the maneuvering of a large tractor in row crop applications. A 12-speed power shift transmission also is introduced on all Steiger tractors.
The poor farm economy of the 1980s takes its toll on the Steiger Tractor, Inc. With the worldwide farm economy struggling, Steiger sold fewer tractors. Steiger Tractor, Inc. files for Chapter 11 bankruptcy protection. With the Steiger plant operating at 25% capacity, Tenneco Inc., then parent company of Case IH, buys Steiger. With the sale to Tenneco in 1986, Doug Steiger's responsibilities to Steiger Tractor ended.
1989: With the purchase of Steiger, Case IH continued producing the green Steiger 1000 Series Tractors and simultaneously introduced the first red 9100 Series Case IH Steiger tractors. Production of green Steiger tractors continued until June 1989.
1990: The Steiger tractor was chosen as North Dakota's first entry into the National Inventors Hall of Fame. Governor George Sinner said, "The Steiger tractor is a significant invention that brought industrial horsepower to agriculture, and we are proud that it is manufactured here in North Dakota."
1990: The 9200 Series was introduced with increased horsepower and other improvements to enhance performance and reliability. The Steiger name was dropped from Case IH's tractors. Due to the enormous popularity of the Steiger name, some dealers retrofit homemade Steiger decals to the 9100 and 9200 Series of tractors.
1995: The 9300 Series is unveiled in Fargo, N.D. The 9300 Series "Powerful Heritage" tractors once again carry the respected Steiger name.
1996: Case IH introduces the amazing Steiger Quadtrac tractor. The 360-horsepower vehicle features four separate tracks that reduce ground compaction and increase traction.
1997: On November 20, 1997, the 40,000th Steiger tractor is produced (this number only reflects Steiger-branded tractors and no others produced at the Fargo plant), marking a very important milestone in the exceptional history of Steiger.
1998: A 400-HP model is released. The uniqueQuadtrac features four separate tracks (one on each corner) which work independently to provide a level of ground contact that cannot be matched by four-wheel drive or two-track systems. The new design reduces ground compaction and provides more traction and less slippage. In addition to being an outstanding farming vehicle, it also proves itself to be one of the best performing tractors ever produced to work in the tough scraper land-leveling market.
1999: CNH Global was created from the merger of Case IH and New Holland. Following the merger, the group introduces an all-new tractor that was to act as a shared platform for both companies. The new Case IH line was now designated as the STX series Steiger tractors. The Steiger name was still displayed on the grill, this time in the lower right-hand corner. Four new models were available including the STX275, STX325, STX375 and STX440. These tractors featured upgraded, high flow hydraulics, 16-speed full powershift transmissions, luxury cabs, and state-of-the-art electronics. Updated engines soon brought the top model's hp to 450, 480, 500 and then 530. Beginning around 2006, CNH began switching the lower hp models over to the IVECO engines produced by parent company Fiat S.p.A..
The STX Series of Steiger tractors feature 13 versions of the four models. They are:
STX 275 – AccuSteer and standard wheel tractors
STX 325 – AccuSteer and standard wheel tractors
STX 375 – QUADTRAC, standard and heavy-duty wheel tractors, scraper wheel and QUADTRAC
STX 440 – QUADTRAC and standard wheel tractors, scraper wheel and QUADTRAC
2005: The 50,000th Steiger tractor—an STX500 Quadtrac model—is produced and the keys are turned over to Mark and David Yaggie during a celebration at the Case IH plant in Fargo, ND, in January. Douglass Steiger is a guest speaker. Earl Christianson, also a guest speaker, recalls that he had sold one of the first production Steiger tractors to David Yaggie's father, Leo.
2007: Case IH returns to the original Steiger nameplate and the removal of the STX designation. The Quadtrac models, however, no longer carry the Steiger nameplate. It is dropped and replaced with a Quadtrac decal where the Steiger decal was found on the wheeled versions.
2008: Case IH celebrates 50 years of Steiger history.  Greg Odde, son of Leonard Odde, who had served as Steiger Tractor Company V.P. of Marketing during the 1970s, purchases a "special edition," custom-painted Steiger-green STX535.  The only Cummins engine left in the lineup was the 535 hp QSX 15.
2014: The Case IH Steiger tractor is voted "Machine of the Year XXL 2014" at Agritechnica in Hanover, Germany.
2018: Case IH celebrates 60 years of Steiger history. Ertl creates 60th anniversary scale model Case IH 620 in Steiger green.
2018: Case IH nominates John, Maurice, and Douglass Steiger for induction into the Association of Equipment Manufacturers (AEM) Hall of Fame. The Steigers receive the award and are inducted in November 2018.
2022: The Steiger Heritage Club, a 501(c)(3) nonprofit organization, is formed to share and preserve the history of Steiger Tractor.
---
References and Resources:
References:
Other Resources providing Steiger Tractor history include:
Red 4WD Tractors, 1957-2017, Lee Klancher, Octane Press, First Edition, September 2017, p.35 https://octanepress.com (This book is a very comprehensive history of Case IH, including Steiger Tractor history.)
Ultimate Tractor Power – Articulated Tractors of the World, Volume 2 by Peter D. Simpson (2002)
Video of Doug Steiger Interview, 2017: An Intimate Interview with Steiger Tract (harvesterheritage.org)
Video of Steiger tractor history : (28) Case IH Steiger history – YouTube
Case IH Steiger Model Brochure, Steiger Strong: Case IH0132—c1l7p1—Steiger-complete-brochure_307x220_lowres1.pdf (cnhindustrial.com)
Link to Case IH history: History | Case IH
---