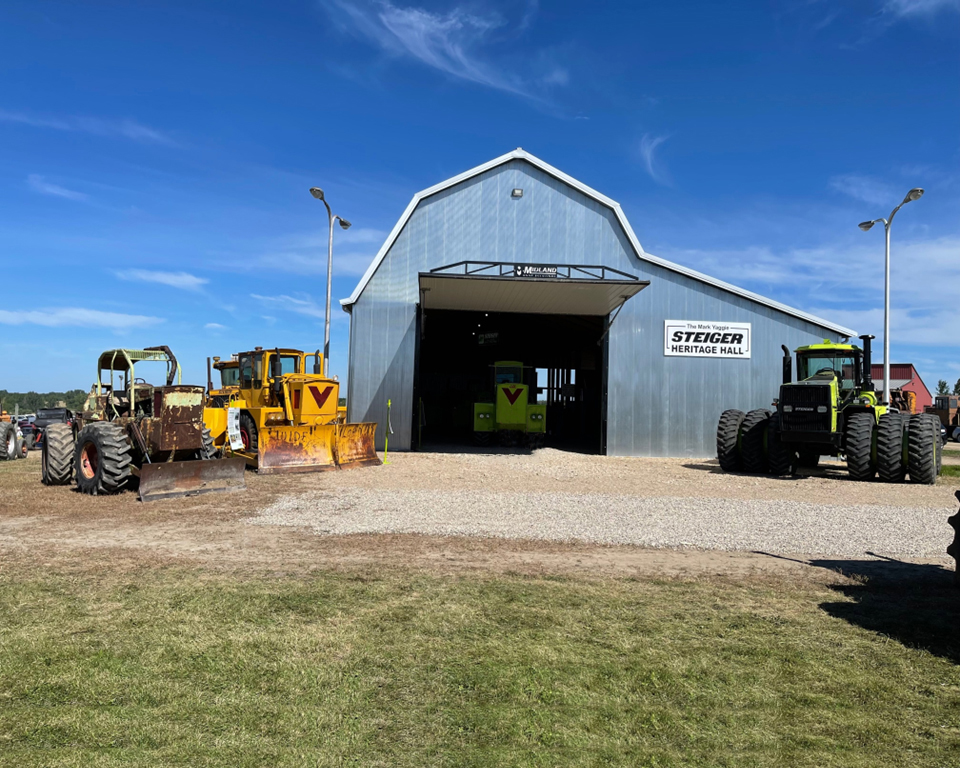 Board of Directors
Founding Members
In January of 2022, the founders of the Steiger Heritage Club elected its first Board of Directors. The current officers of the club are those listed below. In the photo to the right, standing from left to right are Board members MaJeana Hallstrom, Jeri Yaggie, David Dietz, and Peter Christianson (not shown are Bryan Steiger and Kevin Yaggie). Seated is Steiger Tractor co-founder, Douglass Steiger, who is not a Board member, but was present at the 2022 Western Minnesota Steam Threshers Reunion. They are celebrating the donation by George Schaaf of the Steiger Model 105 featured in the background.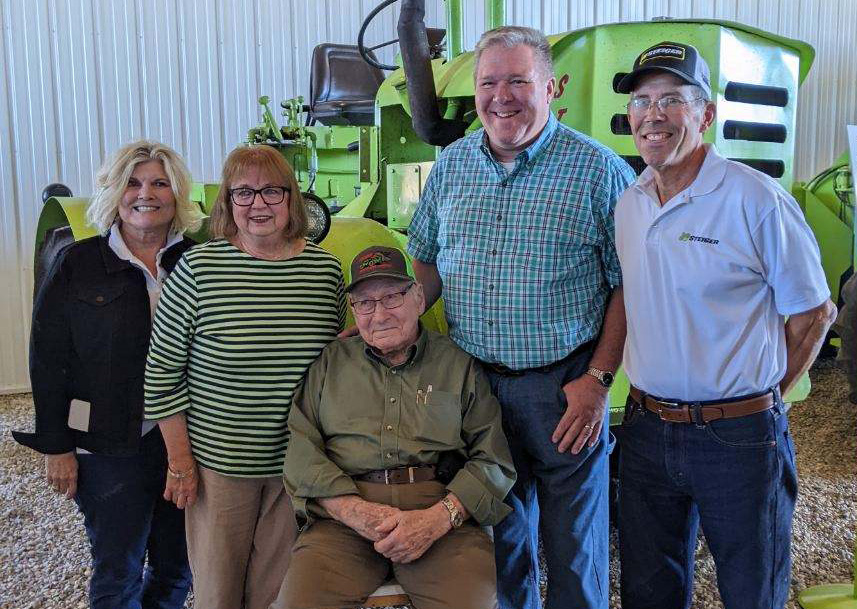 MaJeana (Steiger) Hallstrom
President
MaJeana, daughter of Douglass Steiger, began her "career" working for Steiger family businesses, including driving those big green tractors as a young teenager. She spent 33 years in large-scale student assessment and was a co-founder of Questar Educational Systems. Since her retirement, she has worked on preserving early Steiger tractor history.
Kevin Yaggie
Vice President
Kevin is a third-generation farmer in the Yaggie Farms operation. His grandfather, Leo Yaggie, purchased two Steiger tractors in the mid-1960s. Leo often attributed the growth of his farming operation to Steiger tractors. The Yaggie family has long been loyal Steiger and CaseIH users.
Peter Christianson
Treasurer
Peter is Earl Christianson's son. Earl was the implement dealer out of Elbow Lake, MN, who convinced Doug and Maurice to go into the tractor-building business. Earl not only was their main salesman in the early years, he also was integral to the development and design of the first production-line tractors. Peter served as President/COO of Titan Machinery, helping lead that organization to be the top CaseIH dealership.
David Dietz
Secretary
David, also a grandson of Leo Yaggie, led the restoration efforts of his grandfather's combine, which was donated by the family to the WMSTR. Like all Board members, his background is in agriculture. He is the owner of Heartland Capital Group, LLC and MegaIron Equipment in Fargo, ND.
Bryan Steiger
Director
Bryan is the son of Maurice Steiger. At the age of ten, he began working on the farm and in the various Steiger businesses. He is the President and owner of Steiger Farms and Steiger Manufacturing, which manufactures Toreq scrapers and other equipment.
Jeri Yaggie
Director
Jeri is the wife of David Yaggie and mother of Mark Yaggie (both deceased). David was a son of Leo Yaggie. David and Mark farmed near Breckenridge, MN, and in 2005, they purchased the 50,000th Steiger tractor built. As noted earlier, David and Jeri built the Mark Yaggie STEIGER HERITAGE HALL in memory of Mark and as a tribute to Steiger tractor history.