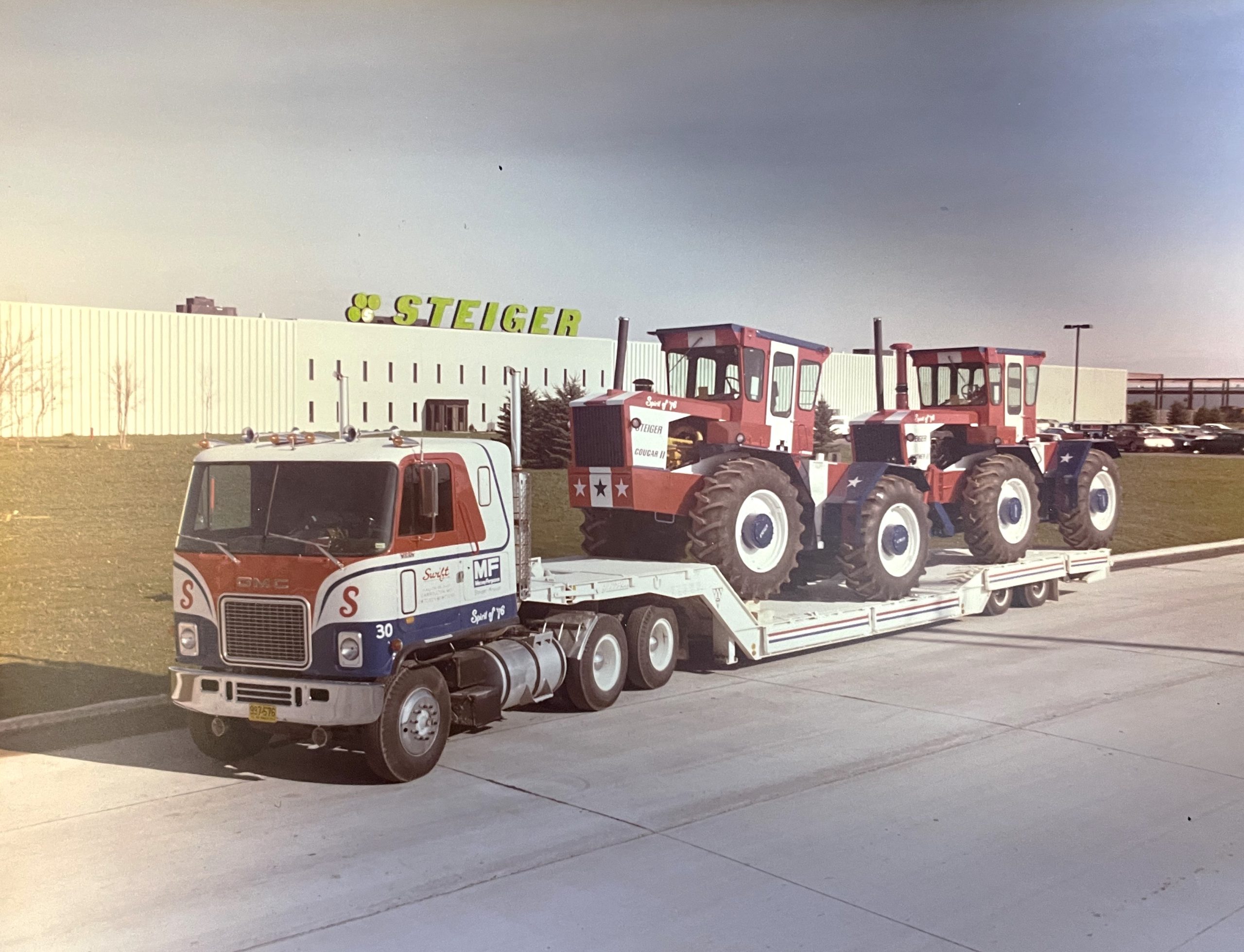 Resources
Publications and Videos Providing Steiger Tractor History
Below are just a few of many books, videos, websites, and other publications that provide even more Steiger Tractor history:
NEW!! The Green Steiger Tractor Story, Peter D. Simpson, 3-Point Ink, LLC; First Edition, August 2023. Starting at the very beginning and looking at the Steiger family from the early days through to building their first 4WD articulated tractor during the winter of 1957/58, learn more about the family's important role as innovators and pioneers of the 4WD tractor industry. 206-pages. Softbound. The author is donating part of the proceeds from this book to the Steiger Heritage Club. Order here: The Green Steiger Tractor Story (*PRE-ORDER*) – 3 Point Ink LLC (Heritage Iron/Oliver Heritage)
Red 4WD Tractors, 1957-2017, Lee Klancher, Octane Press, First Edition, September 2017, p.35 https://octanepress.com
(This book is a very comprehensive history of Case IH, including Steiger Tractor history.)
Ultimate Tractor Power – Articulated Tractors of the World, Volume 2 by Peter D. Simpson (2002)
Video of Doug Steiger Interview, 2017: An Intimate Interview with Steiger Tract (harvesterheritage.org)
Video of Steiger tractor history: (28) Case IH Steiger history – YouTube
Case IH Steiger Model Brochure, Steiger Strong: Case IH0132—c1l7p1—Steiger-complete-brochure_307x220_lowres1.pdf (cnhindustrial.com)
Link to Case IH history: History | Case IH
Big Tractor Parts Steiger 4WD Tractor History: www.bigtractorparts.com
Other Heritage Organizations and Resources
The groups below, including J.I. Case Heritage Foundation, J.I. Case Collectors' Association, and the Harvester Heritage Preservation Program which are nonprofits, share similar missions to that of the Steiger Heritage Club. Below are links to those organizations.
The Rumely Allis-Chalmers LaPorte Heritage Center is dedicated to promoting, through its Center and projects, a better understanding and appreciation of the agricultural and industrial heritage of the Rumely and Allis-Chalmers companies, their employees, dealers, and customers. The Center will promote interest and education through collecting, preserving, and displaying items produced and/or sold by the Rumely and Allis-Chalmers companies and the companies that were acquired by or merged with Rumely and Allis-Chalmers. Link: Rumely Allis-Chalmers LaPorte Heritage Center
HERITAGE IRON—HOME OF THE MUSCLE TRACTOR: Founded in 2008, Heritage Iron is a full-color, bi-monthly magazine featuring all brands, makes, and models of MUSCLE TRACTORS and equipment from 1960-1990! Each issue provides you with company history and technical information, classified ads, auction and event listings, letters from readers, and MORE! Heritage Iron, your HOME of the MUSCLE TRACTOR! Subscribe online Subscribe – Heritage Iron Magazine or call toll-free 855-OLD-IRON. Heritage Iron is published by 3-Point Ink, LLC, based in Greenville, IL. HERITAGE IRON MISSION: To preserve the history of tractors and farm equipment from the innovative manufacturers of the 1960-1990 era.